What is a FIRM?
A FEMA Flood Insurance Rate Map (FIRM) is an official map of a community on which FEMA has delineated the Special Flood Hazard Areas (SFHAs), the Base Flood Elevations (BFEs), and the risk premium zones applicable to the community. FIRMs are available for viewing and download at FEMA's Flood Map Service Center website.
What is a FIS?
When a flood study is completed for the National Flood Insurance Program (NFIP), the information and maps are assembled into a Flood Insurance Study (FIS). The FIS report contains detailed flood elevation data in flood profiles and data tables. FISes are available for viewing and download at FEMA's Flood Map Service Center website.
What is a FIRM Database?
A FIRM Database is a Geographic Information Systems (GIS) version of the FIRM and most of the quantitative data in the Flood Insurance Study. FIRM Databases are available for download at FEMA's Flood Map Service Center website.
What is the NFHL?
The National Flood Hazard Layer (NFHL) is a geospatial database that contains current effective flood hazard data. FEMA provides the flood hazard data to support the National Flood Insurance Program (NFIP). The NFHL is made from effective flood maps and Letters of Map Change (LOMC) delivered to communities. NFHL digital data covers over 90 percent of the U.S. population. New and revised data is being added continuously. If you need information for areas not covered by the NFHL data, there may be other FEMA products which provide coverage for those areas.
What is Risk MAP?
FEMA works with federal, state, tribal and local partners across the nation to identify flood risk and promote informed planning and development practices to help reduce that risk through the Risk Mapping, Assessment and Planning (Risk MAP) program.
Within the Risk MAP program, each flood risk project is tailored to the needs and capabilities of each affected community and may involve different steps, products (regulatory and non-regulatory) and services. For all projects, a strong emphasis is placed on community engagement and partnerships to ensure a whole community approach to reducing flood risk and building more resilient and sustainable communities.
Risk MAP supports community resilience by providing data, building partnerships, and supporting long-term hazard mitigation planning. In particular, Risk MAP's Flood Risk Products work alongside regulatory products to provide flood risk information and support your community's overall floodplain management and hazard mitigation strategies.
To learn more about the products produced by Risk MAP, visit the FEMA Flood Map Products page.
What is a FEMA CTP?
The Cooperating Technical Partners (CTP) Program's mission is to strengthen the effectiveness of the National Flood Insurance Program (NFIP) and support FEMA's mitigation objectives. The CTP Program leverages partnerships to deliver high-quality hazard identification and risk assessment products, provide outreach support and empower communities to take action to reduce risk based on informed, multi hazard-based data and resources. This is in support of FEMA's Risk Mapping, Assessment and Planning (Risk MAP) Program. The Illinois State Water Survey and the Illinois Department of Natural Resources - Office of Water Resources have been part of the CTP program since 2004.
What is FEMA Discovery?
During the Discovery process, FEMA, state, and local leaders collect current and historic flood-related data and then meet to review this data to get a complete picture of the area's flood risk. This information helps determine whether a flood risk project is needed and, if so, what the scope of the project will be.
What is a HUC-8 Watershed?
(Click image for full-size) A watershed is an area of land that channels rainfall, snowmelt, and runoff into a common body of water. "Watershed" is a general term; however, the United States Geological Survey (USGS) uses more specific terminology to define drainage areas by size. The US is divided and sub-divided into successively smaller hydrologic units. Each hydrologic unit is identified by a unique hydrologic unit code (HUC) consisting of two to eight digits. The fourth level of classification is the cataloging unit, which uses eight digits to identify individual watersheds (hence the term HUC-8). Cataloging Units are also called "subbasins". There are 53 Cataloging Units partially or completely within the State of Illinois. To learn more, visit the USGS Hydrologic Units page.
More on Mapping and Data Process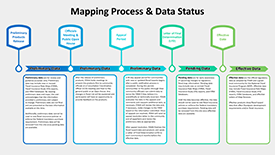 (Click image for full-size) The FEMA regulatory mapping process centers on disseminating, accepting, and adopting the community's Flood Insurance Rate Map (FIRM). The activities associated with the process beginning with release of the preliminary version of the FIRM, Flood Insurance Study (FIS) Report, and FIRM database and are highlighted in the Mapping Process and Data Status Diagram. Community touch points are listed along the top, data status is listed along the arrows in the middle, and the details of each segment are provided in the boxes along the bottom.